Winter Crafts for Three Rivers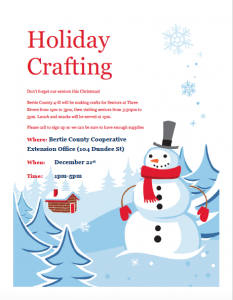 Please remember!
Tomorrow from 1:00 p.m. to 5:00 p.m. we will be making crafts at the Bertie Extension Office (now located at 104 Dundee St) to take to Three Rivers Senior Center. Lunch will be served! Event is free for ages 5 and up (Adults are welcome!). Please call to sign up so we can have enough supplies for everyone.
Hope to see you tomorrow!